Thank you for enriching your Lenten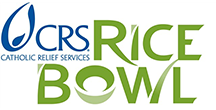 journey and making a difference in the lives of others by participating in CRS Rice Bowl.
As Masses have been cancelled because of the COVID-19 pandemic, we will not be collecting Rice Bowls this year at the Easter Masses.  Please mail a check for the amount you collected in your Rice Bowl to your parish or the Catholic Foundation.  Thank you for your generous support!
As always, 75% of your contribution to Rice Bowl supports CRS' humanitarian relief programs in nearly 100 countries worldwide.  25% remains in our Diocese to support the fight against local hunger and poverty.  Through the Catholic Foundation's Office of World Mission Services we support the outreach ministry of Catholic Relief Services.
Learn more at www.crsricebowl.org.